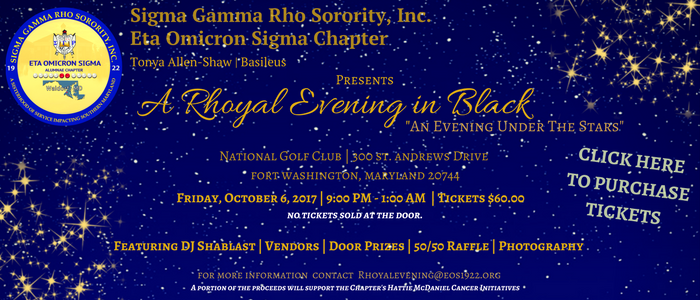 Welcome to the 2017
Rhoyal Evening in Black: An Evening Under the Stars 
We are excited that you have chose to support our
Breast Cancer Awareness initiative.
Below we offer three opportunities to show your support by way of purchasing tickets, obtaining an sponsorship package or purchasing an journal Ad.
We appreciate your time and your donation!
The ladies of Eta Omicron Sigma invite you to partner with us for our signature event by becoming a sponsor. We will display your companies name and/or logo in print and electronic materials as well as on our social media platforms. Click here and take a moment to evaluate the levels of sponsorship available to support the "8th Annual A Rhoyal Evening in Black".  Your sponsorship  will support the chapter's Hattie McDaniel Breast Cancer Awareness Initiatives. For
Souvenir Journal Opportunities